Vinyl Stickers
Our range of removable wall stickers lets you paste, taking off again and again the reasons according to your desires. You can even take it with you if you move. In this case, be sure to keep the white protective foil in order to preserve the adhesive during storage and keep the back of the stickers protected from dust.
1. Prepare Your surface
Our repositionable wall stickers are happy on a smooth, clean and dry (leave the fresh paint to dry two weeks).
2. Remove The reasons
The action is fairly obvious.
3 Paste
Action is even more obvious.
4. And this is
You can now consider yourself as an artist.
Or not. It doesn't matter. Feel free to take off the stickers and return to step 3. Again, and again, and again…
Small precaution however: The installation of these stickers on paper surfaces is not recommended, the paper making them lose their repositionable property. So ask them on a paper basis, if you want to paste your final sticker, stickers being difficult to remaining
paper or paper painted.
Tile murals Textile adhesive
Discover a whole new form of sticker giant and an innovative way to dress patterns and colors home or work spaces, without getting your hands dirty!
Our self-adhesive wall tiles are made in a textile material to the touch very silky, non toxic and free of PVC and phthalates. The inks used are also respectful of the environment.
These wall tiles can be arranged as you wish because fully customizable and adaptable to your own dimensions: simply cut them simply as for wallpaper.
Rotate them, combine patterns and use them on any smooth, flat surface.And a pose is ultra-simple, the back of each le is adhesive, there so more no need of glue and brushes!
Can the wall tiles be laid in a kitchen or a bathroom?
It IS NOT recommended to lay the wall tiles in a kitchen or a bathroom to avoid the projections (water, fat, etc). Water can endomager printing, avoid it is wet or splashed with liquids.
Can the wall tiles be cleaned? 
Of course, but keep in mind that to clean them, it is best to use a dry cloth and wipe gently. Do not use water or household products and do not strongly rub with a cloth, it could affect the adhesive or worse the ink of the tile.
Laying advice
Laying advice: to do and not to do
I received my wall stickers. And now?
Congratulations) First, carefully read the included installation instructions. The owl stickers are easy to apply, but reading the instructions (on http://www.bridgat.com/shop/owl-wall-stickers/) you will save time and avoid errors. But basically, decide your composition and stickez!
Wall stickers are they suitable for all types of walls?
For most, Yes. Smooth surfaces (painted wall, drywall,…) are to foster. If your wall is wet, dirty, or irregular, stickers may not stick. Before laying, pass a dry cloth on the wall to remove any film of dust or cobwebs that can hang in the corners;)
My walls were painted recently:
If you have recently painted your walls, stop. Wait 2 to 3 weeks, if there is moisture, before asking your stickers so that the wall is completely dry. If you perform before laying, the adhesive will dry with paint and may take off paint if you remove the sticker:
The Member wall stickers they all types of paint?
Our stickers stick very well on the matte paintings or satinées. Some designs may not adhere properly on lacquer paintings.
Gallery
As for Me Vinyl Wall Art Quote Inspirational Decal Sticker …
Source: www.ebay.com
How to Install Wall Decals
Source: www.happydecal.com
Application Instructions
Source: www.vinylwalldecals.co.nz
Application Instructions – LDS Vinyl Wall Lettering and …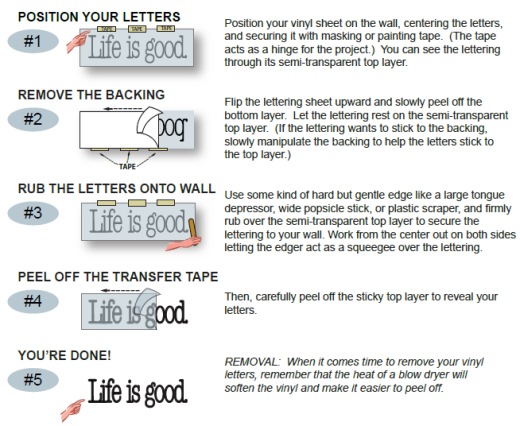 Source: www.ldsvinyldecals.com
Installation Instructions Dali Wall Decals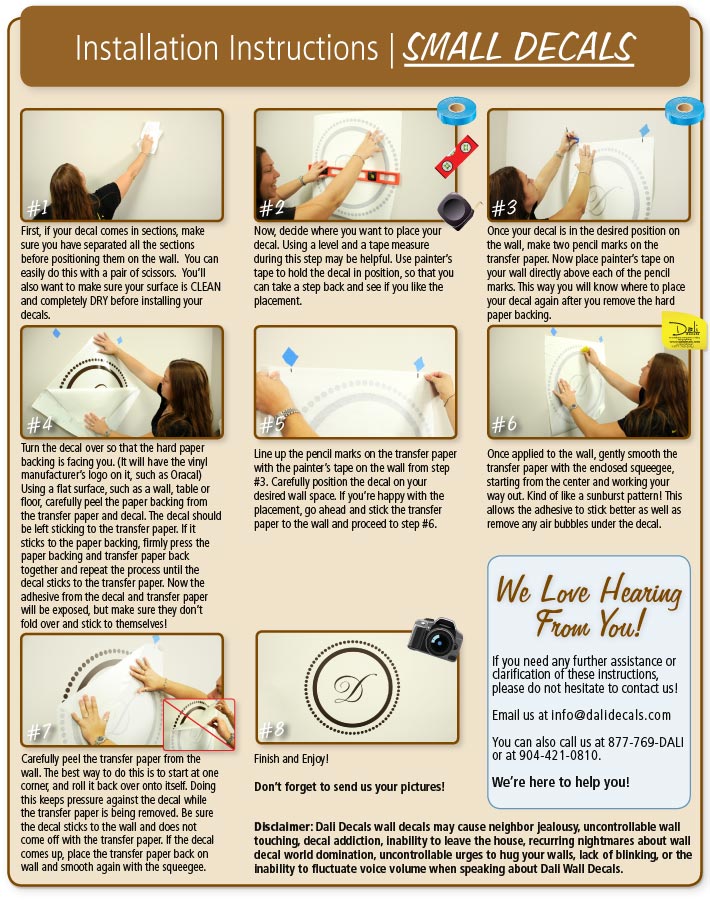 Source: dalidecals.com
Installation Instructions Dali Wall Decals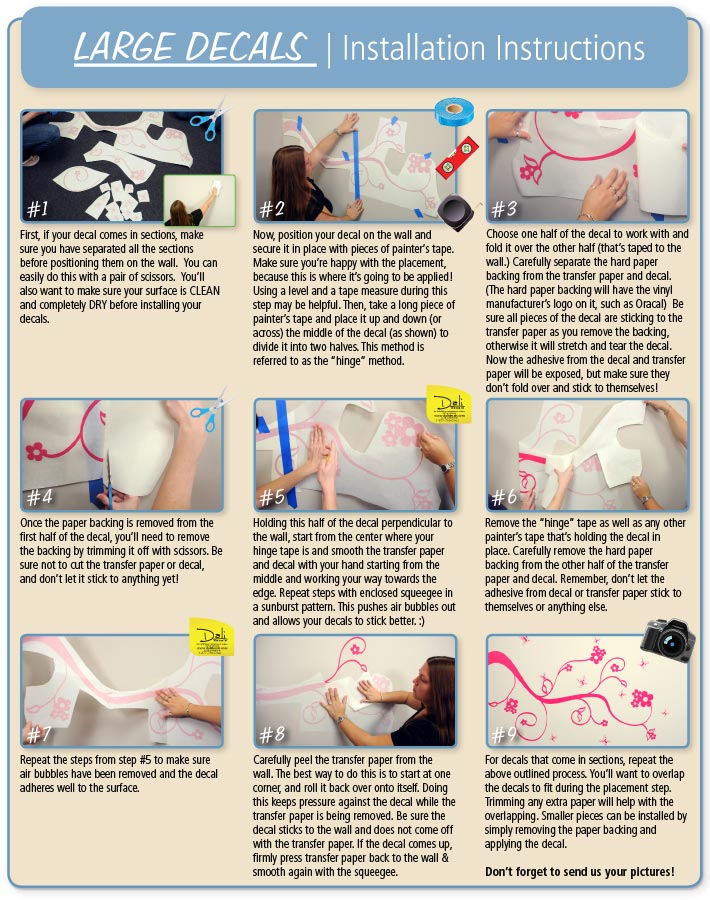 Source: dalidecals.com
How To Apply Vinyl Wall Decals Quick & Easy
Source: www.rightonthewalls.com
All About Vinyl Decal Installation and Instructions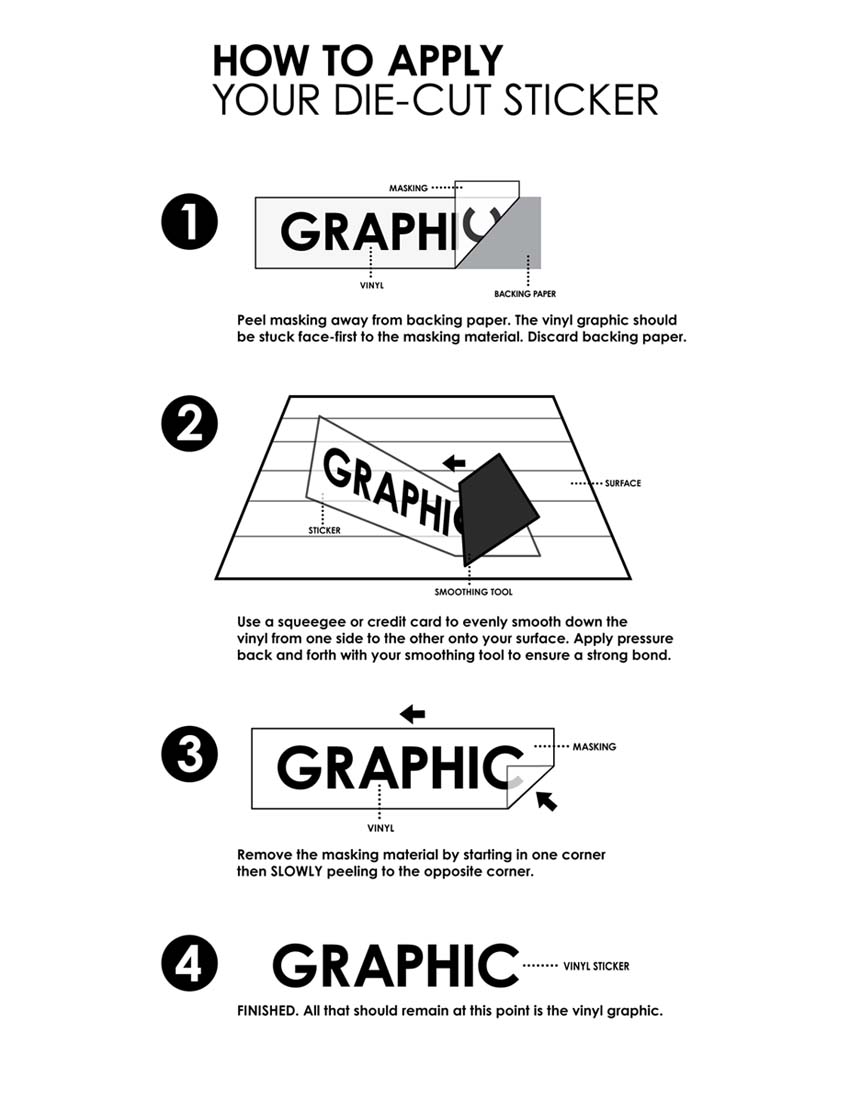 Source: www.aftershockdecals.com
How to easily install Wall decals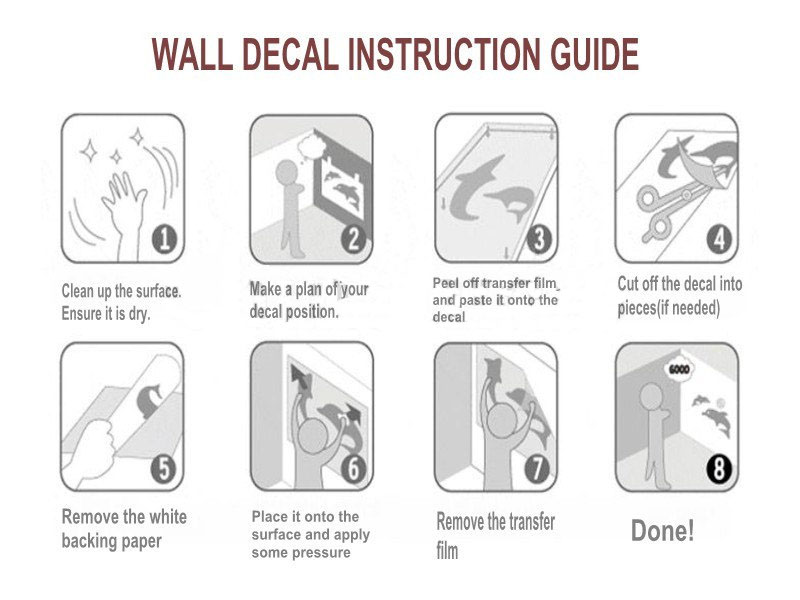 Source: www.wallstickerscool.com.au
how to apply wall decals
Source: roselawnlutheran.org
Ape Human Evolution of Women Hurdling Hurdles Die Cut …
Source: www.alumigogo.com
Best Coast Sun and Surf – West Coast Pride
Source: crippendesign.com
Most decal sizes
Source: howtoinstalldecals.com
Tandem Decals Info
Source: www.thetandemlink.com
How To Apply Your Wall Stickers
Source: www.iconwallstickers.co.uk
Palo graphics Vinyl decal car window sticker JDM …
Source: www.geeksticker.net
The DOs and DON'Ts of installing vinyl wall decal
Source: www.youtube.com
Vine Vinyl Wall Decals
Source: wallstickery.com
Vinyl Wall Decal Sticker Art House Rules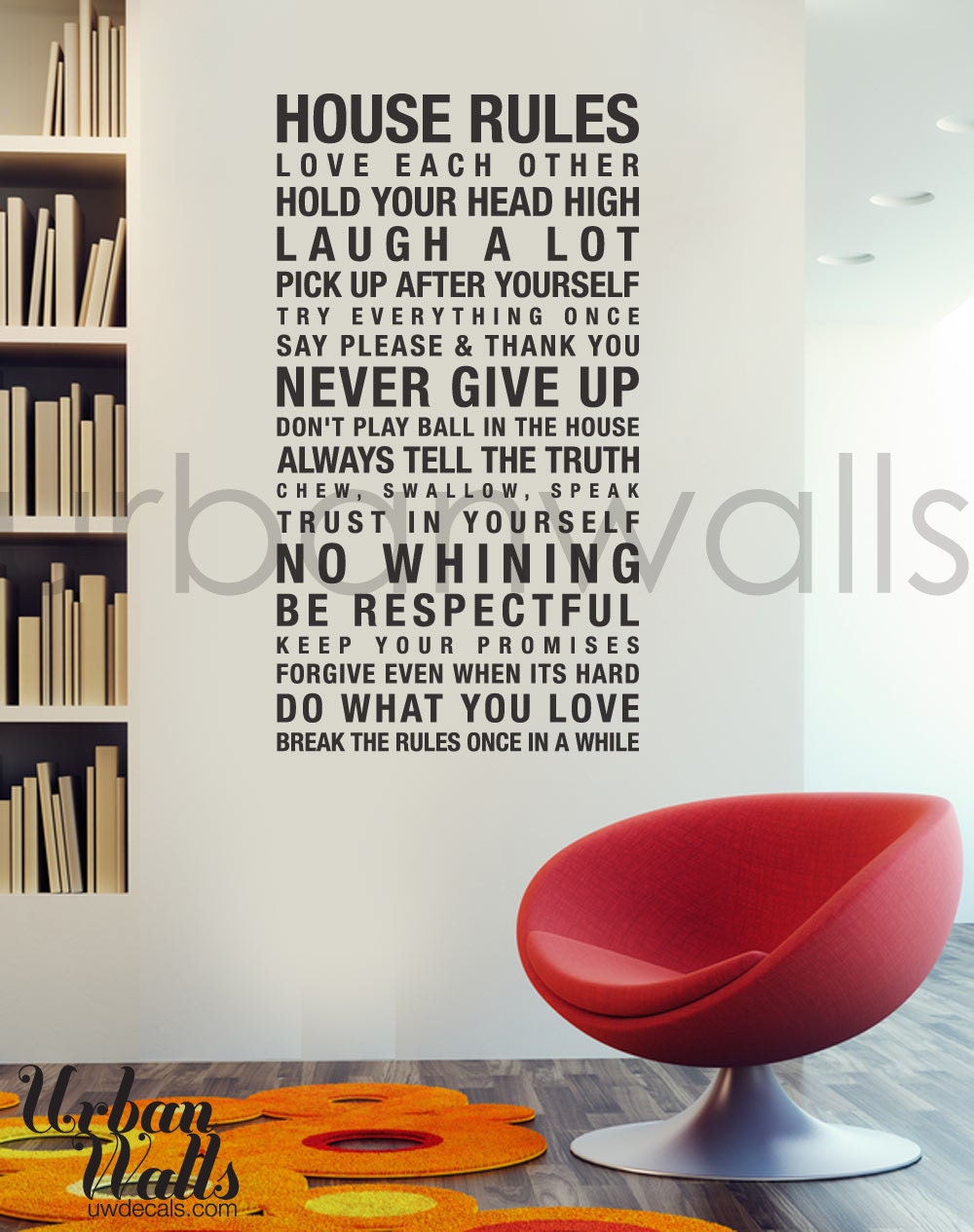 Source: www.etsy.com
2 Cats Vinyl Wall Sticker Decor Decal Livingroom Nursery …
Source: wall4stickers.com